UNDER THE DOME GIFTS - CURRENTY CLOSED
Our gift shop, Under the Dome Gifts,  has two seasons. The store is located off the Main Lobby of the State House,  and is open late June through October. These hours correspond with guided tours—Monday–Friday, 10:00 AM to 4:00 PM; Saturday, 11:00 AM to 3:00 PM. The gift shop offers a wide variety of Vermont products ranging from candles and maple products to children's games and toys. It also includes souvenir items such as our Staffordshire china which features the State House,  as well as plenty of Vermont books to browse.
During the legislative session (January through May), Under the Dome Gifts operates a gift cart adjacent to the State House cafeteria. It is open Tuesdays and Thursdays, 11:00 AM to 2:00 PM.
Under the Dome Gifts is sponsored by the Friends of the Vermont State House and run entirely by volunteers. All proceeds benefit ongoing conservation and interpretation of the State House for visitors. For more information, contact Jack Zeilenga, Assistant State Curator at jack.zeilenga@vermont.gov or 802-828-0749.
STATE HOUSE CAFETERIA
The dining area is an airy and contemporary space where legislators, staff, visitors, school groups, and policy advocates are likely to be seen on almost any day of the year. Breakfast and lunch are available Monday through Friday (8:00 AM–3:00 PM during the legislative session, 8:00 AM–2:00 PM  during the remainder of the year). The cafeteria is particularly busy during the legislative session, but also hosts many tour bus groups in the fall. 
The Capitol Food Court is run by the Abbey Group, and features sandwiches, soups, a salad bar and grill items. You can find a sample menu here.
This space is also a rotating exhibition space, with monthly art shows during the legislative season, and shows of longer duration during the tourist season.
STATE HOUSE LAWN AND HIKING TRAIL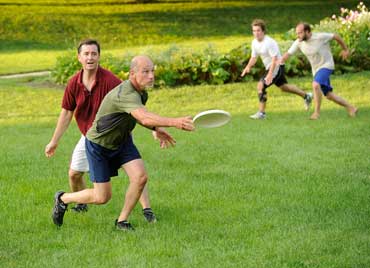 The State House is beautifully nestled against a wooded hillside, with a public park (Hubbard Park) located up the hill behind, and a broad lawn and gardens leading up to its front steps. The lawn is the site of frequent celebrations and public rallies throughout the year—as well as home to picnic blankets, strollers, Ultimate Frisbee games, and concerts. The gardens feature rotating seasonal displays.
A well-maintained walking trail through Hubbard Park begins just behind the State House, on the east side, adjacent to the parking lot.   It's about a fifteen-minute walk up the hill to an old stone tower that offers a view of the surrounding mountains. You can find a trail map of Hubbard Park's extensive network here.