Abenaki Recognition and Cultural Celebration at the Vermont State House 
with a New Exhibition, Ceremony, and Performances 
Wednesday, May 1
, 2019  •  
4:00 to 6:00 pm
The public is invited free of charge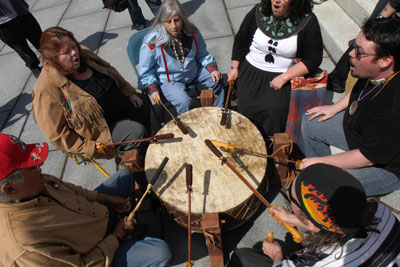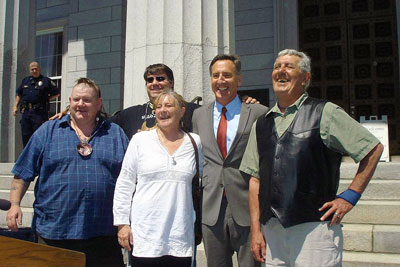 A new permanent exhibition, entitled The Road to Recognition: The Abenakis and the State of Vermont will be celebrated in the Main Lobby and front portico areas of the Vermont State House on Wednesday, May 1st, from 4:00 to 6:00pm. Lt. Governor David Zuckerman will read a proclamation on behalf of Governor Phil Scott that declares the kick-off of Abenaki Recognition and Culture Week—a week-long observance of a number of activities and exhibits across the state that celebrate the culture of Vermont's indigenous people.
The May 1st celebration will include Lt. Governor Zuckerman's remarks and those of House Speaker Mitzi Johnson and Senate President pro tempore Tim Ashe. The chiefs of the four bands of Vermont's Abenakis will also address the crowd, just before Abenaki drummers, singers and dancers perform in front of the State House.  Authentic Abenaki finger food and drink will also be served, provided by the Friends of the Vermont State House. 
 
In 2011 and 2012, four bands of Abenakis fulfilled the criteria set forth by the Vermont General Assembly and Governor Jim Douglas in 2010 to achieve official state government recognition of the tribe as Vermont's indigenous people. The Abenakis are descended from groups of humans who occupied what today is the state of Vermont nearly 11,000 years ago. But after Europeans pushed into northern New England in the 18th century, disease and warfare took a toll on Vermont's Native Americans, and by the 19th century, they were no longer acknowledged as residents. Nevertheless, many continued to live quietly amid white Vermonters, known locally as "basket-makers", hunting and fishing guides and "gypsies".
The civil rights movement of the late 1960's inspired some Abenakis to begin to aspire to federal and state recognition as the native people of Vermont, and that struggle would continue through the 1970's, 80's, 90's until 2006 when federal recognition failed—thus opening the door to state recognition. Governor Peter Shumlin and the legislature in 2011 and 2012 received special gifts from the four State-recognized bands, and those gifts will now be on display in the lobby of the State House along with panels that explain the story of Abenaki recognition by the State of Vermont.
FARMERS NIGHT CONCERT SERIES  
The Farmers Night Concert Series is a longstanding State House tradition.  Over a century ago, lawmakers would travel to Montpelier for the legislative session, booking rooms in hotels and boarding houses.  On Wednesday nights, the Farmers Club—an informal group of farmer-legislators—would gather in the well of Representatives Hall to entertain themselves, often with sing-alongs or casual minstrel shows.  Today,   performing artists from around the state, in genres ranging from classical music to bluegrass,  barbershop, poetry, dance and theater,  perform at 7:30 PM in the well of the House Chamber every Wednesday night during most of the legislative season, from late January through mid-April.  All performances are free of charge!