The Vermont State House is one of the oldest and best preserved of our nation's state capitols. After nearly 160 years it remains an icon in Montpelier, the smallest capital city in America. Its House and Senate chambers are the oldest active legislative halls in the United States that have preserved their original interiors.
This architectural gem is also home to some of the state's most important art. As you tour this remarkable piece of living history, you will develop a sense of what makes this building, and the state for which it was built, unique. Highlights include the Governor's Office, the Cedar Creek Reception Room, the Hall of Inscriptions, and the legislative chambers.
We hope your visit to the State House will allow you to fully appreciate this amazing site.  Below are the offices and organizations who work together to make sure your experience of this capitol is all that it should be. 
The Sergeant-at-Arms Office is located just off the Main Lobby of the building, and they are always available to answer your questions, sign out free audio tour wands, and to direct you to your next destination.  They oversee doorkeepers, pages, the Capitol Police, custodians— and  also provide frontline visitor services within the State House.
The Vermont State Curator's Office is charged with interpreting the State House to the visiting public—in addition to duties caring for the historic fabric of the building, as well as its significant furnishings and works of art.  Tours are arranged by the State House Tours Coordinator, with over 100 volunteer tour guides and gift shop attendants deployed to meet the needs of visitors.  The State Curators also develop and mount special exhibitions and publications.
The Friends of the Vermont State House is the private nonprofit organization that has,  since 1981,  assisted the State Curator with restoration,  conservation and interpretation of the State House and its collections.  The Friends continue to provide and sustain our volunteers, and present public programming and publications that enhance the visitor experience of our capitol.  You can help further their goals by generously contributing here.  If you are interested in volunteering as a tour guide or gift shop attendant, please contact Angelica Caterino at 802-828-1411 or email.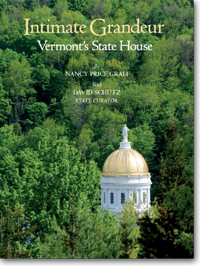 INTIMATE GRANDEUR: Vermont's State House,  was published by the Friends of the Vermont State House in 2015 as a 120-page celebration of the state's most significant historic building.  Written by historian Nancy Price Graff with Vermont State Curator David Schutz, it is available in softcover ($24.95) or hardcover($39.95) in our gift shop or by ordering through the Friends' website by clicking here.