The four-block Capitol District surrounding the State House offers abundant opportunities to explore Vermont's art and culture. Whether you're observing the oldest active legislative chambers in the country, experiencing the multi-media exhibit tracing Vermont's history since before statehood, or discovering some of Vermont's finest contemporary artists in a variety of galleries, this District is full of surprises around every corner.
VERMONT SUPREME COURT GALLERY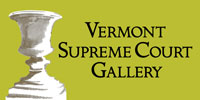 The entry hall of the Vermont Supreme Court building provides a gracious backdrop for solo exhibitions of many of Vermont's most exciting contemporary painters, photographers, and sculptors. These shows are selected by Supreme Court Justice Marilyn Skoglund, who founded the gallery over 25 years ago. For a schedule and information about the current show,  click here.
VERMONT HISTORY MUSEUM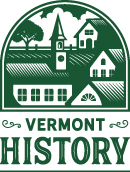 The award-winning multi-media exhibit, "Freedom and Unity: One Ideal, Many Stories," is a permanent exhibition which delves into the entire history of Vermont.   It begins with Paul Sample's Salute to Vermont, a 1961 mural that sets the visitor up for a walk through time, experiencing a full-sized Abenaki wigwam, a re-creation of the Catamount Tavern where Ethan Allen's Green Mountain Boys gathered, a railroad station complete with a working telegraph and a WWII living room furnished with period music and magazines. The Museum also features a rotating gallery which showcases local history collections with themes and places important to Vermont. Click here for more details. 
VERMONT ARTS COUNCIL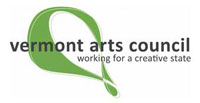 The Vermont Arts Council features two exhibition spaces-- an outdoor sculpture garden offering rotating displays of 6-8 pieces in a variety of media including stone, steel, bronze, and aluminum. Inside, the Spotlight Gallery presents a different Vermont artist every two months. Details regarding Spotlight shows can be found here. For the Sculpture Garden click here.
CAPITOL DISTRICT E-NEWSLETTER
Stay in touch with all gallery openings and  upcoming events in the Capitol District by signing up for our free monthly e-newsletter here.
BEYOND THE DISTRICT
Montpelier is America's smallest and most dynamic state capital. Its vibrant downtown is lined with locally owned businesses including restaurants, whimsical gift shops, movie theaters, book stores, clothing boutiques, and a hardware store. Surrounded by compact tree-lined neighborhoods and historic homes, Montpelier is perfect for strolling or biking around. Montpelier Alive offers details or stop by the visitor booth just a few blocks down State Street from the District.  More visiting assistance can be obtained at the State Welcome Center at 134 State Street, just a half block west of the State House.
Central Vermont offers a range of activities sure to please everyone. Trails for hiking, biking, snowmobiling, and Nordic and downhill skiing abound. Nearby attractions include the Vermont Granite Museum, Ben and Jerry's, cider mills, maple sugarhouses, resort communities, and historic sites. Farmers' Markets take place all year and some say this is the home of the best beer on the planet.
More on all these can be found at the official Vermont tourism website.